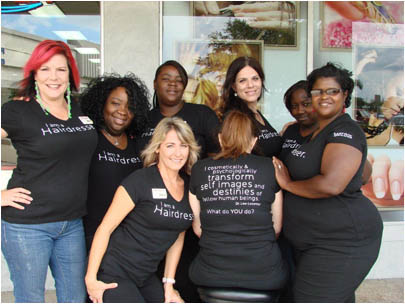 LORAINES ACADEMY & SPA
Career Opportunities
Many employers don't waste their time and money with "Classified Ads" when looking for qualified individuals to fill positions. They have come to depend on Loraines Academy's graduates time and time again.
We are pleased to be able to offer this unique employment opportunity for all Loraines Academy graduates.
Congratulations !

You have been trained by caring, professional instructors at Loraines Academy. Employers actively seek out our graduates as they seek to fill their many needed positions. At Loraines Academy we are not only concerned about you as a student, but are strongly interested in your success in your new CAREER. We cannot guarantee any graduate a Career, of course, but want to assist you in finding just the right position within your specialty.
Nancy Fordham
Kathryn Alvarez
Below are samples of the types of businesses
who seek Loraines Academy graduates!
(Page down for Current Career Board)
Ambrosia Spa and Salon
Attractions (Life Styles Plaza)
Beautiful Faces Spa
Bella Day Spa
Belleair Nails and Spa
Beyond Aveda Salon
Blue Orchid Healing Center
Crystalistic Hair Design
Day Spa at Citrus Park
Design Savvy Salon
Dolce Salon and Spa
Dr. Andrew Coundouriot Plastic Surgeon
Dr. Carson's Med Spa
Dr. Elliott Rivera
Dr. Kim Powers
Dr. Kyle Remmel
Dr. Milnes - Chiropractor
Dr. Roberts -- West Bay Chiropractic
Ermira's Nail Spa
Euro Salon and Spa
European Hair Design
Fantastic Sams
Great Clips
Hair du Soleil
Hair Master's (Regis)
Hair Velocity
Hair World
Heidi's Salon
Identity Salon
Infinity Salon
J Con
Jacqueline's Salon and Day Spa
Janet Mittendorf's Day Spa
Kennedy Salon & Day Spa
Kevin Charles Hair Artistry
Key West Hair Co.
LA Clippers
Lemon Tree Hair Salon
London Hair
Lumina Healing Center
Mane Stop
Mantrap Hair Salon
Marci's Massage
Michelangelo Hair Studio
Midori Salon and Spa
Natural Wellness: Dr. Mark Carlo
Nature's Salon & Day Spa
Nicole's Skincare Center
Palm Terrace Nursing Home
Pasadena Manor
Philly's Finest Hair Salon
Renee's Best Cuts & Style
Salon Bravo
Salon Couture
Salon CR
Salon Louise
Salon Sole
Salon Tropical
Seminole Hair & Nails
Sharmaine's Salon and Day Spa
Sharp Image Barbershop
Shear Essence
Spa Moritz
Spa Nautique
Studio Cutz
Style Lines
Sunset Family Hair Sa
Tangles Hair & Nail
The Massage Spa
The Perfect Image
Tranquility Well
Wick City Cutz & Braids

 
 
 
Loraines Academy Career Board
Updated July 2017
The below companies are ready to hire and have requested that you identify yourself as a Loraines Academy graduate

Job Placement Opportunities - Hair

Business

Address:

Contact Information:

Special Information (Schedule/Rates, etc.)

Posted On:

Kre8tive Stylz Hair Studio

1225 4th St S
St. Petersburg, FL

Akeyla (Keyla)
813.300.1209

Booth rental or Comm. Looking for braiders or barbers.

5/3

Island Hair

7116 Suite B Gulf Blvd
St. Pete Beach

Sheila
954.822.2161

Pay up to $20/hr, flexible hours, needs dependability and honest, drug-free environment. Mention Loraines Academy Graduate upon phone call

5/3

Your Dads Barber Shop

1301 Bayshore Blvd
Dunedin, FL

Pete
727.768.2421

Open availability, FT or PT, looking for cosmo graduates-need to be confident with using straight razors

5/3

Marilyn Monroe Spa

125 -2nd Ave n St. Pete

Sheila Fearson
727.592.8390
sheilafearson@Marilyn Monroespas.com

 Ft & PT  positions, 7 days per week, contact Sheila Fearson

5/3

Creative Images Salon

10671 – 104th Ave
Largo, FL

Tracy Mills
727.686.4093
TracyLMills3@gmail.com

Looking for shampoo Assistant; Mon-Sat. Hourly pay.

5/3

Blew Chocolate Salon

701 N Fort Harrison Ave Suite E
Clearwater, FL

Nadia Benjamin
727.441.3200
blewchocolate@gmail.com

Commission, retail incentives, Tuesday-sat 10-7, flexible with scheduling if necessary.  Can apply online at www.blewchocolatesalonclearwater.com or in person (preferred) Must be proficient w/ ethnic hair.

5/3

Intuition Salon and Spa

16 N Ft. Harrison
Clearwater, FL

2053 Central Ave
St. Petersburg, FL

727.443.2927 (Clearwater)

727.322.3802
(St. Pete)

Apply in person

Download application at www.intuitionsalonandspa.com

Looking for Hair Stylist ASSISTANT, someone enrolled in cosmo school or recently graduated. Offers great growth opportunities, 6-20hrs/week with opportunity to work up to 40. Clean back ground check required. Non-smoking, drug-free environment.

5/3

O'Hare Peace Salon

248 – 75th ave.
St. Pete Beach

Joney
727.498.6484
msjneyO@gmail.com

Submit resume
Ft & Pt
Mon-Sat
$ negotiable-
Commission or booth rental

5/3

Broklion Kutz

10613 117th Ln
Largo, FL

J. Von
727.210.9296

Barber, Mon-Sat
Weekly chair rental $130/week, 2 weeks free, birthday free

5/3

Remixed Salon

St. Petersburg, FL

Mo
727.871.2848

Booth Rental 150/wk.

5/3

Aveda

Citrus Park Mall
Dillard's
2nd floor
8161 citrus Park dr. Tpa

813.926.6265
Alex or Patty

Open 7 days/week (Looking for PT or FT)
Hourly + Commission

5/3

Aacardi

4046 Park St
St. Pete

727.343.1234
727.409.3001
Valerie or Alicia

Ft / Pt
Positive attitude
Self-motivated
Busy Salon
1 on 1 advanced training
Call to come for a tour

5/3

All Cutz Barbershop

3913 6th St S
St. Petersburg, FL

Malvin
727.824.7036

Looking for Barber/Stylist. Commission pay structure.

5/3

Tim's Barbershop

9th St N

Mindy
(727) 462-8467

Mens cuts only. Pt or FT available. 60% commission; good place to build clientele

ALSO looking for Assistant Manager

5/3

Salon Volo

5848 54th Ave N
St. Petersburg, FL 33709

Rob
727.545.1905

FT; Hourly pay. Associate Training Program opportunity!!

7/18

Versatile Styling

822 – 49th st s.
St. Pete

Lydia
727.327.5000
810.210.7919

Stylist needed PT Mon-Sat; Commission or booth rental. Lydia is Loraines Alumni!!

5/3

Internt'l
Hair Design

6175  54th ave. n
Kenneth City

Teresa
727.548.0807
ihd@brighthouse.com

Inquire within
Looking for stylists + assistants: 3:30-9pm
Mon-Wed + All day Saturday; $10 hr or commission

5/3

Yolo Salon/Spa

1155 Pasadena Ave. s.
Pasadena

Eileen
727.343.9656
eileensherryyolo@gmail.com
yolosalonspa.com

Tues-Sat 10-6
$125 weekly chair rental; also needs nail tech!

5/4

Park Plaza Barber Shop

7440 49th St
Pinellas Park, FL 33781

Vincent
727.776.3903

Commission 60%, full time or part time, must be flexible with availability, good place to build clientele.

5/4

Mister'z Barber Lounge

6393 – MLK St. N. #106
St. Pete 33702

Antwan
727.686.0223

7 days per week
Barber wanted
www.twanbarber.genbook.com

5/4

My Salon Suite

St. Petersburg, FL

Dawn
813.602.1677

Booth Rent- Move in Special: 2 weeks free rent to use when you want!
-customize your salon to reflect your style
-set your own schedule
-enjoy more privacy w/ clients
-escape salon drama
(Lease Space/Sublet Opportunity)
-use the product lines of your choice
-sell retail & keep all the markup
-make more money/no commission
-live the life you've imagined!

5/4

Ulta Salon

Clearwater Mall
2683 gulf to bay  Clearwater fl 33759

Lester
7277246498
ultabeauty.com

Stylists needed! flexible schedule open 7 days a week 9-9  Hourly or Commission!

5/4

Fadez, cut & Styles

2807 – 38th ave. n.
St. Pete 33701

Will
813.475.9371

Motivated barbers/stylists. Open 7 days/week. Commission or booth rental!

5/4

Wellness @ img
Sports Academy

5500 – 34th st. w.
Bradenton

Maria Dietz
941.739.7390

Motivated Barbers/stylists
www.imgacademy.com
Open 7 days/week. Commission based!

5/4

Supercuts

11996 Indian Rcks Rd
(Strip Plaza)

Joanna
727.458.0087

Licensed stylist
To be avail evenings + weekends
Flexible hours
Hourly wages+tips+product sales comm.
phyxiusinv@gmail.com
Hiring end of summer!!

5/4

Hair Cuttery

Largo, Tampa, Dunedin Locations

Tammy Paradis
386.479.8227

Needs stylists! Open 7 Days/week! Commission pay structure!

5/4

Supercuts at Bay Pines

10195 Bay Pines Blvd
Seminole, FL 33708

Kathy McPherson
813.957.0069

Open availability, around 20 hours/week, hourly + commission on products ranging 10-20%, commission on upgrades in services (10%), bonus incentives available, high foot traffic

5/4

Laniakea Salon and Spa

9059 4th St N
St. Petersburg, FL 33702

Alicia
863.838.6526
(owner's direct number)

Looking for Nail Tech or Cosmetologist to join our team! Competitive pay, benefits, and a mentorship program for staff; Tues-Sat Commission or booth rental

5/4

Queen Bea's Salon and Boutique

3711 5th Ave N
Suite B
St. Petersburg, FL 33713

Ms Bea
727.768.7474

Stylists and barbers needed! Wed-Sat. Booth rental

5/4

The Salon by InStyle

3 locations..1 in Ellenton + 2 in Bradenton

Mica
941.840.9647
Jobs.jcp.com

Mon-Sat 9-7pm
Flexible scheduling, set your own service pricing, up to 70% commission based on performance, benefits incl storewide associate discount, medical, dental, paid time off, and 401K. (for full time employees)

5/5

Silver Lining Beauty Center

1834 49th St S #B
Gulfport, FL 33707

Ms. Davis
727.328.2623

Seeking professional cosmetologists for booth rent or commission. Please contact for more information. Open 6 days/ week; also seeking nail tech!

5/5

PS Salon and Spa

Traveling Stylist

Denise Butler
216.800.4333
pslifestyle.com

Job for one or more "communities" ie assisted living, independent living, nursing home, etc. Stylist usually asked for basic style, perm, mani/pedi, cut. Can travel to multiple facilities in a weekm or build clientele in one. 50% commission + tips in some facilities, and some not. Flexibile, daytime hours M-F.

5/5

Vanesa's Hair

6447  Park Blvd #7
Pinellas Park

Erica
832.372.0606

PT assistant after 3PM.
Flexible times duing week- definitely Saturdays! Erica is a Loraines Grad!!

5/5

SuperCuts

St. Petersburg, Bradenton, Lakewood Ranch, Wesley Chapel

ALL have immediate openings

Deepa
813.409.4414
813.409.4419

Hiring hair stylists and managers, excellent compensation packages including commission, bonuses and benefits. Free training!

5/4

Men's Dept Barber Shop

Largo, FL

DJ Ross
203.627.5000 (c)

Barbers Needed! Open 7 days/week. Hourly or Commission. Training as well!

5/5

Lil Divas & Dudes

4200 – 4th St. N.
St. Pete, FL

Mallory
727.800.2991

Tues-Sat.
$11 hr + Tips
Leave v-mssg if Mallory not avail

5/5

The Island Salon

5901 – Sun Blvd
St. Pete, FL

Hailey
727.866.8915

Tues – Sat
Stylist, Receptionist, assistant
$ hrly + Tips

5/5

Nika Beauty & Spa

190 Main St
#108
Sarasota, FL

Natalie
941.524.5797

New Salon-Open May '17
Call Natalie after 5pm
$negotiable-depends on skill level

5/12

Jacqueline's Salon and Spa

279 107th Ave
Treasure Island, FL

Kalina
727.455.8528

Stylist needed-willing to perform as shampoo assistant at start of employment. Upscale Salon!

5/16

Midori Organic Salon and Spa

1033 W Bay Dr.
Largo, FL

Amber or Jessica
727.581.8791

Will need estheticians towards end of summer! Looking for hair stylists as well!

5/16

Fantastic Sams

22nd ave & 4th st. n.
St. Pete

Laval
727.823.6206
414.940.8379

Pt/Ft 5 days per week
$ starts as hrly depending on productivity then turns into commission + Tips

5/30

Lush Apparel

54th ave. n/66th St. N.
St. Pete, FL

Gina/Virginia
727.768.6963

Braiders
$ hrly 5-6 days per week
lushapparel@yahoo.com

6/1

Janet Mittendorf's Day Spa

8850 4th St N
St. Petersburg, FL 33703

Email resume to janetmittendorfsdayspa@yahoo.com

Visit website to see offered services!
Now hiring LMTs, Hair Stylists, and Nail Techs!

6/7

Great Clips

2 locations:
3601 – 49th St N
1468 – 66th St. N

Eduardo
727.301.2629
Brandon
727.575.7953

Stylists wanted
Apply within
Encourages 1 day shadowing
$ hrly / commission
Open 7 days/week

6/12

Maddyspa

5332 Gulfport blvd s.
Gulfport

Crystal
727.388.2008

Shampoo assistant
Open Mon- Sat.
$ hrly

6/16

G3 Salon & DaySpa

1220 Cleveland St.
Clwtr

Tracy
804.986.9927
727.238.3001

New salon to open early Aug
Owned by student alumni $commission
Stylists comfortable with extentions

7/7

New Identities Hair Studios

Tampa, FL

Email resume to nihairstudio@yahoo.com

Award winning salon looking for rising stars to join their team!

7/18
Job Placement Opportunities - Massage

Business:

Address:

Contact:

Special Information (Schedule/Rates, etc.)

Posted On:

Uptown Barbers Bar (Men's Spa)

3300 9th St N
St. Petersburg, FL 33704

Farrah Driver
727.898.4516

Female LMT preferred; on call only

5/5

Ermira's Europeon Salon & Spa

6038 – 4th St. N
St. Pete

Ermira
727.525.6611

Independent Contractor
Sun & Mon + 1 add'l day. 60-65% depending on degree of skills. 

5/5

The Massage Spa

4101 Central Ave
St. Petersburg, FL

Brittney or Courtney
727.327.6772

50% Split Commission, Full Tips. Open 7 days/week

5/5

Spa Escape

15170 Municipal Dr
Madiera Beach

Bunny
813.334.3495

Mon-Sat
Independent Contractor
Pay 50/50
Dual License- benificial

5/5

DayGlo Med-Spa

6600 10th Ave N
St. Petersburg, FL

Marissa
727.439.4333 (c)
marissa@dayglomedspa.com

Medi-Spa looking to expand their practice, looking for LMT to have a fresh take on Massage and Body Treatments. Can submit resume via email and contact via cell phone. Female preferred.

5/5

Dr Kay's Med Spa

10500 Ulmerton rd
Largo

Tina
727.518.1000

Be avail for 3 days at least
Open Mon – Sat
$15-20 hrly  ..email resume: drkaysmedspa@gmail.com

5/5

Internat'l
Hair Design

6175 54th ave. n.
Kenneth City

Teresa
727.548.0807
ihd@brighthouse.com

Dual License
Inquire within

5/5

A Healing Arts Center

8903 Regents Park Dr.
#130
Tampa, FL 33647

Janine Petrossian
813.960.8833
ahealingarts@msn.com

Seeking LMT for New Tampa/Wesley Chapel location. Pays hourly or on commission basis.

5/12

Yolo Salon/Spa

1155 Pasadena Ave. s.
Pasadena

Eileen
727.343.9656
eileensherryyolo@gmail.com
yolosalonspa.com

Tues-Sat 10-6
On Call
Yolo supplies all but lotions/oils

5/4

The Massage Center of Apollo Beach

1312A Apollo Beach Blvd
Apollo Beach, FL 33572

Aimee Lewis
813.645.0333
info@abeachmassagecenter.com

Ind. Contractor, open availability, flexible schedule, dual license also available

5/4

Iris Organic Spa

353 Main St Dunedin, FL

Tina
727.223.3722

Prefer non-smoker, commission based, open availability, part time or full time. Dual License preferred

5/5

Lemon Tree Spa

St. Pete Beach and Tierra Verde Locations

Lisa
727.329.8977

Mon, Wed, Sat, Sunday (Optional), can be flexible on days if necessary. Commission based on experience.

5/12

Pia Estetics & Nayla's Beauty Bar

Both Clinics are separate near Downtown St. Pete

Jeff
813.334.1167

Tue-Sat @ Pia and Sundays-Sat @ Nayla's
Looking for Build practice/Partner. Motivated applicant a MUST! Referral required; build your own clientele attitude!

5/12

Prima Care Health Injury Center

3236 Dr Martin Luther King Jr St N
St. Petersburg, FL 33704

Jon Wheeler
727.460.2597
primacareinjury@gmail.com

Part Time/Hourly – 30 Hours per week.
Experience desired but not necessary – treating auto accident patients. Strong desire for bilingual applicants.

5/12

Gulf Beaches
Therapeutic Massage

7300 Gulf Blvd
St. Pete 33706

Heidi Robinson
727.360.7372

Mon-Sat 9-6

5/12

Wellness@img
Sports Academy

5500 – 34th st. w.
Bradenton

Maria Dietz
941.739.7390

PT
www.imgacademy.com

5/4

Massage Studio

St. Pete & South Tampa Locations

Kat Thomas
813.879.3700

Open 7 days per week
Flexible sched

5/12

St. Pete Chiropractic Injury Rehab

6514 Central Ave
St. Petersburg

Dr. Staubs
727.519.3757
Stpetechiropractorinjury+rehab.com

Open M-F; 27-30 hours weekly. Pay to be discussed; per massage or hourly.

5/4

FL Chiropractor

5621 – Central ave
St. Pete

Julie
727.345.4242

PT /Fill in
Mon-Sat
floridachiromanager@gmail.com

5/8

Nika Beauty & Spa

1900 Main St. #108
Sarasota, FL

Natalie
941.524.5797

New Salon open May '17
Call Natalie after 5pm
$negotiable-depends on skill level
nikalera@inbox.lv

5/8

Headline Salon

100 Indian Rocks Rd
Bellair Bluffs, FL 33770

Tasha Johnson
727.584.4769
727.432.2802 (CELL)

Estheticians and Massage Therapists needed. Wed, Fri, Sat. Commission 40%-60%.

5/3

Massage Luxe

St Petersburg

Bree 727-895-5893

Massage Therapist needed 7 days a week flex schedule commission base

5/23

Janet Mittendorf's Day Spa

8850 4th St N
St. Petersburg, FL 33703

Email resume to janetmittendorfsdayspa@yahoo.com

Visit website to see offered services!
Now hiring LMTs, Hair Stylists, and Nail Techs!

6/7

Back Pain Relief Clinic
Dr Rhonda Schroeder

3962 -5th Ave. N.
St. Pete

Kacee
727.327.1717

Fill-in on 7/12-7/19
Fax resume to 727.322.9827

6/28

Massage Luxe

N.E. Plaza
206 – 37th ave N
St. Pete, FL

Bree
727.895.5893

MassageLuxe.com

6/9
Job Placement Opportunities - Nails

Business:

Address:

Contact:

Special Information (Schedule/Rates, etc.)

Posted On:

Kre8tive Stylz Hair Studio

1225 4th St S
St. Petersburg, FL

Akeyla (Keyla)
813.300.1209

nail stations available
$to be discussed

5/3

Blew Chocolate Salon

701 N Fort Harrison Ave Suite E
Clearwater, FL

Nadia Benjamin
727.441.3200
blewchocolate@gmail.com

Commission, retail incentives, Tuesday-sat 10-7, flexible with scheduling if necessary.  Can apply online at www.blewchocolatesalonclearwater.com or in person (preferred)

5/3

Aveda

Citrus Park Mall-Dillards 2nd floor
8161 Citrus Park Dr. Tpa

813.926.6265
Alex or Patty

Open 7 days/week
Pt/Ft
Hrly or commission

5/3

Aacardi

4046 – Park St
St. Pete

727.343.1234
727.409.3001
Valerie or Alicia

Ft / Pt
Busy salon
Self motivated
One-on-One
advance training
Come for a tour

5/3

Internat'l Hair Design

6175 54th Ave n
Kenneth City

Teresa
727.548.0807
Ihd @brighthouse.com

Assistant Mon, Tue, Sat. Esthetician and Nail Tech needed!

5/10

Versatile Styling

822 – 49th st s
St. Pete

Lydia
727.327.5000

Nail Tech
Mon – Sat
FT
Lydia is a Loraines Alumni

5/3

Iris Organic Spa

353 Main St Dunedin, FL

Tina
727.223.3722

Prefer non-smoker, commission based, open availability, part time or full time
Dual License pref.

5/10

Essentials Reatreat

7895 seminole blvd

727-584-4600
Liliana Sherman
Essentialreatreat.com

Nail techs needed flexible hours opens  7 days a week

5/10

Wellness @img Sports Academy

5500 – 34th st. w.
Bradenton FL

Maria Dietz
941.739.7390

PT
www.imgacademy.com

5/4

Crystal's Nails & Spa

1401 Gulf Blvd
Indian Rocks Beach, FL

Xoang
727.595.3446

Looking for nail technician. Open Avail.

5/10

Laniakea Salon and Spa

9059 4th St N
St. Petersburg, FL 33702

Alicia
863.838.6526
(owner's direct number)

Looking for Nail Tech Competitive pay, benefits, and a mentorship program for staff

5/5

The Nail Garden and Salon Volo

5848 54th Ave N
St. Petersburg, FL

Peggy
727.384.6245

Looking for one nail technician for a busy upscale salon. Must have good interpersonal and communication skills. Prefer nail tech with clientele, but not required. Pedicures popular, please be neat, punctual, and a team player!

5/10

Divine Spa & Nails

6212 – 54th ave. n.
Kenneth City

Nav (Male)
727.225.2068

Open Mon- Sat
Flexible, Full Time, Motivated, Incentive bonus
Divinespanails.com
Pref- Full Specialist
Mostly manis/pedis occasional facials

5/10

Ermira's European Salon and Spa

6038 4th St N
St. Petersburg, FL 33703

Ermira
727.525.6611

60% commission, Natural Nails only. Full Specialist preferred!

5/3

We R Nails and Spa

St Petersburg

Gwen
727-488-7463

FT and PT
M-S 10 to 7
Sun 11-5

5/16

Tradewinds Resort

St. Pete Beach, FL

Tyler
727.363.2279
Ilovemyjobbecause.com
Apply on website

Part time Nail Tech, possibly Full Time alternating between receptionist and nail tech.

5/3

The Island Salon

5901 – Sun Blvd
St. Pete, FL

Hailey
727.866.8915

Tues-Sat
Nail Tech
$ hrly + tips

5/5

Nika Beauty & Spa

1900 Main St #108
Sarasota, FL

Natalie
941.524.5797

New Salon open May '17
Call Natalie after 5pm
$ negotiable depends on skill level
nikalera@inbox.lv

5/15

Yolo Salon/Spa

1155 Pasadena Ave. s.
Pasadena

Eileen
727.343.9656
eileensherryyolo@gmail.com
yolosalonspa.com

Tues-Sat 10-6
$125 weekly chair rental; also needs nail tech!

5/4

Silver Lining Beauty Center

1834 49th St S #B
Gulfport, FL 33707

Ms. Davis
727.328.2623

Seeking professional cosmetologists for booth rent or commission. Please contact for more information. Open 6 days/ week; also seeking nail tech!

5/5

Nail Confessions

2031 – 4th st N
St. Pete, FL

Helena
727.259.8373

Looking for tech to grow business with
$ Booth rental-but will be provided ample walk-in clients
View Facebook

5/16

Hairs The Bling

80 Indian Rocks Road S.
Bellair Bluffs

Valerie
727.301.2699

Flex sched.
$ commission

5/16

Janet Mittendorf's Day Spa

8850 4th St N
St. Petersburg, FL 33703

Email resume to janetmittendorfsdayspa@yahoo.com

Visit website to see offered services!
Now hiring LMTs, Hair Stylists, and Nail Techs!

6/7

Tranquility Day Spa

149 2nd St N
St. Petersburg, FL 33701

Elgantine
727.898.7800

Looking for nail tech and facial/waxing specialist!
Come by in person to drop off resume!

7/6

Harmony Eco Spa

400 4th St N
St. Petersburg, FL
(at Hollander Hotel)

Tina OR Jennifer
727.822.8701

Commission or hourly; open availability. Natural Nail Service (NO Acrylics), does Vitamin-enriched Gel Nail, Nail Art; Spa Ritual Product Line, OPI, CND Gels.
Come by for a tour!

Becky and Jennifer are creative directors for natural product line used in the Spa!

6/8

Tradewinds

5600 Gulf Blvd
St. Pete Bch

Tyler
727.363.2279

Pt Nail techs
$ commission

6/19

Gardens of Time

Tampa, FL

Martha
813.505.5564

Have 2 manicure charis, 4 pedicure chairs available. Contact for more info!

7/18

Tranquility Wellness Spa

149 – 2nd St. n.
St. Pete, FL

Irena or Zoe
727.898.7800

Flex. Sched
*busy salon
$ commission

7/25

Villa Blanca Nails

158 West Bay Dr. Largo, FL

Shelly
302.228.8371

Looking for licensed nail techs!

7/26
Job Placement Opportunities- Skin

Business:

Address:

Contact:

Special Information (Schedule/Rates, etc.)

Posted On:

Seva in Walmart

Brandon and Pinellas Park Locations

Jennifer (B)
813.368.7653
Pryam (PP)
813.453.7708

PT or FT, open 7 days per week looking for 3 new people $9-12 hr + commission + tips. Brow Threading a PLUS!

5/5

Ermira's
European Salon & Spa

6038 – 4th st. n
St. Pete

Ermira
727.525.6611

FT
Tues-Sat
40-50% commission Full Specialist Preferred!! High demand!

5/5

The Massage Spa

4101 Central Ave
St. Petersburg, FL

Brittney or Courtney
727.327.6772

50% Split Commission, Full Tips. Open 7 days/week

5/5

Spa Escape

15170 Municipal Dr
Madeira bch

Bunny
813.334.3495

Mon-Sat
Independent Contractor
Pay 45/55 split
Dual License preferred (TM/Facial)

5/5

Macy's

Any store

Online application

Use Loraines referral for guaranteed interview!!

5/5

Blew Chocolate Salon

701 N Fort Harrison Ave Suite E
Clearwater, FL

Nadia Benjamin
727.441.3200
blewchocolate@gmail.com

Commission, retail incentives, Tuesday-sat 10-7, flexible with scheduling if necessary.  Can apply online at www.blewchocolatesalonclearwater.com or in person (preferred)

5/5

Aveda

Citrus Park Dr
Dillards 2nd Floor
8161 – Citrus Park Dr Tpa

813.926.6265
Alex or Patty

Open 7 days/week
Pay to be discussed

5/5

Internat'l Hair Design

6175 54th Ave n
Kenneth City

Teresa
727.548.0807
Ihd @brighthouse.com

Assistant Mon, Tue, Sat. Esthetician and Nail Tech needed!

5/10

Aesthetics by Coleen

5700 Central Ave
St Petersburg, FL

Colleen
727-238-6638 aestheticsbycolleen.skincaretherapy.net

Per client room available for esthetician or massage therapist to share room. Hourly or commission split

5/16

Iris Organic Spa

353 Main St Dunedin, FL

Tina
727.223.3722

Prefer non-smoker, commission based, open availability, part time or full time. Dual License preferred. Nails/Skin or TM/Skin

5/10

Pia Esthetics & Nayla's Beauty Bar

2 separate Clinics, near Dt St. Pete

Jeff
813.334.1167

Pia's Tues-Sat
Nayla's Sunday-Sat.
Building the Practice, Looking for Partner

5/10

Wellness@img
Sports Academy

5500 – 34th st. w.
Bradenton FL

Maria Dietz
941.739.7390

PT availability; open 7 days/week. Commission!
www.imgacademy.com

5/10

Divine Spa &
Nails

6212 – 54th Ave N
Kenneth City

Nav
727.225.2068

Full Specialist
Open 6 days/week
Motivated
Incentive Bonus

5/10

Sudy's Beauty Center

13008 N. Dale Mabry
Tampa

Sudy or Frank
(813)598.1368
(813)843.4573

Owner wishing to partially retire-asking for partner to help manage
Exclusive European skin care
hforoughi@yahoo.com

5/8

The Island Salon

5901 – Sun  Blvd
St. Pete, FL

Hailey
727.866.8915

Esthetician
Tues-Sat
$ to be discussed

5/5

Nika Beauty & Spa

1900 – Main St #108
Sarasota, FL

Natalie
941.524.5797

New Salon open May '17
Call Natalie after 5pm
$ negotiable, depends on skill level
nikalera@inbox.lv

5/15

Headline Salon

100 Indian Rocks Rd
Bellair Bluffs, FL 33770

Tasha Johnson
727.584.4769
727.432.2802 (CELL)

Estheticians and Massage Therapists needed. Wed, Fri, Sat. Commission 40%-60%.

5/3

Midori Organic Salon and Spa

1033 W Bay Dr.
Largo, FL

Amber or Jessica
727.581.8791

Will need estheticians towards end of summer! Looking for hair stylists as well!

5/16

Aqua Piatra

Polk County, FL

Nikki
863.428.1000 ext. 6800

Looking for Esthetician and Hair and Nail Tech!

5/18

Tranquility Day Spa

149 2nd St N
St. Petersburg, FL 33701

Elgantine
727.898.7800

Looking for nail tech and facial/waxing specialist!
Come by in person to drop off resume!

6/8

Lush Apparel

54th ave. N.
St. Pete, FL

Gina
727.768.6963

Makeup
5-6 days/week
$ hrly lushapparel@yahoo.com

6/1

G3 Salon & Dayspa

1220 Cleveland st
Clwtr

Tracy
804.986.9927
727.238.3001

New salon to open in Aug
Owned by Loraines Alumni
Comfortable with application of makeup & Lash extensions.

7/7