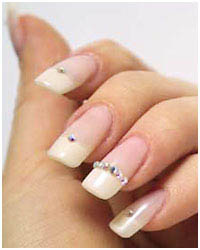 A Florida beauty school, cosmetology school, barber school and hair school located in St Petersburg and 30 minutes from Clearwater or Tampa.
Cosmetology with Nails Program
1500 Hours
Become a Hair Stylist & Nail Tech


15 months on a 24 hour per week schedule.

Schedules vary and those who can attend more will graduate sooner. 125 weeks on a minimum part time schedule of 12 hours per week.


Qualifies for Federal Financial Aid.
Includes:


Cosmetology:
(1200 Hours)
Hair Shaping (hair cutting)
Color
Bleach and Highlights
Foil and Cap Frosting
Permanent Waving images/Hair Styling
Hair Relaxing
Styling
Hair Extensions
Braiding
Nails
Facials
Makeup
Sanitation
Florida Law
Product Knowledge
Client Relations
Salon Preparation
...and much more
Nail Tech:
(300 Hours)
Manicures
Pedicures
Sculpting using a Form
Tips with Overlay
Nail Wraps and Mending
Nail Fill-ins
Artificial Nail Removal
Nail Art
Paraffin Treatments
Light Activated Gels
Electric Drill
Pink & White Technique
Rebalancing
The Nail Business
Spa Services
Odorless Products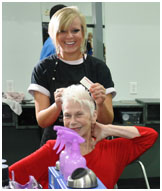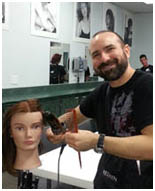 Our Unique "Designer Training Program":
Small classes and professional instructors will see that you are prepared, one subject at a time, to move to the next unit. Each subject is taught beginning with one week of intensive classroom work followed by sessions of supervised experience on mannequins and live clients on our student cosmetology clinic.
These units, in order, are: "D1" Hairstyling, "D2" Hair Shaping, "D3" Hair Color, "D4" Permanent Waving, "D5" Specialty Subjects and "D6" Salon Preparation.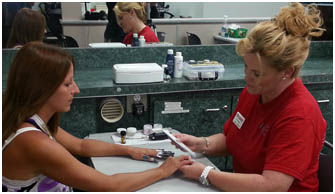 Frequent professional seminars and demonstrations by guest artists are held. Our library features a full selection of videos, books, and current trade publications on every subject.

Cosmetology is a Great Career Choice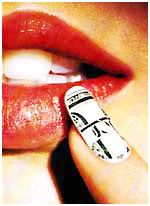 LORAINES ACADEMY & SPA offers full-service training beyond the basics, including a large and active clinic for supervised experience with the public. Frequent professional seminars and demonstrations by guest artists are held. Our library features a full selection of videos, books, and current trade publications on every subject. We feature a large retail center with related product knowledge classes.
Cosmetologist Income and Occupational Outlook

The Bureau of Labor Statistics (2015) says that the mean annual wage for cosmetologists is $27,940 per year. The BLS numbers often do not account for full-time and part-time cosmetologists, experience in the field, and tips that cosmetologists receive, which could make that salary higher.
The National Accrediting Commission of Career Arts and Sciences (NACCAS) reveals that some of the main factors that determine cosmetology career earnings and salary ranges include the size and location of the salon, hours worked, the tipping habits of clients, and competition from other salons and shops. The cosmetologist's ability to bring in and maintain regular clients is another factor in determining many cosmetogists salaries and cosmetology salary ranges.
According to The United States Department of Labor, many cosmetologists, and other personal appearance workers receive commissions based on the price of the service, or they earn a salary based on hours worked. Nearly every professional in the cosmetology industry receive tips and commissions for the products they sell and those tips often go unreported. Some salons pay bonuses or commissions to employees on top of their regular cosmetology salary who bring in new business or sell products.


What Barbers, Hairdressers, and Cosmetologists Do
Barbers, hairdressers, and cosmetologists provide haircutting, hairstyling, and a range of other beauty services.
Work Environment
Barbers, hairdressers, and cosmetologists work mostly in a barbershop or salon. Physical stamina is important, because they are on their feet for most of their shift. Many work full time, but part-time positions are also common. Nearly half were self-employed in 2014.
How to Become a Barber, Hairdresser, or Cosmetologist
All states require barbers, hairdressers, and cosmetologists to be licensed. To qualify for a license, candidates are required to graduate from a state-approved barber or cosmetology program and then pass a state exam for licensure.
Job Outlook
Employment of barbers, hairdressers, and cosmetologists is projected to grow 10 percent from 2014 to 2024, faster than the average for all occupations. Most job openings will result from the need to replace workers who leave the occupation. According to the United States Department of Labor, the U.S. employment rates for personal appearance works such as hairdressers, hairstylists, cosmetologists, skin care specialists and shampooers are projected to grow. Job growth in cosmetology is expected to rise at a rate of 13% between 2012 and 2022 (BLS, 2015) which could lead to greater demand for hairdressers, stylists, barbers and cosmetologists over the next decade. 
Nail Tech Income and Occupational Outlook


Quick Facts: Manicurists and Pedicurists
2015 Median Pay
$20,820 per year 
$10.01 per hour
Typical Entry-Level Education
Postsecondary nondegree award
Work Experience in a Related Occupation
None
On-the-job Training
None
Number of Jobs, 2014
113,600
Job Outlook, 2014-24
10% (Faster than average)
Employment Change, 2014-24
11,700

What Manicurists and Pedicurists Do
Manicurists and pedicurists clean, shape, and beautify fingernails and toenails.
Work Environment
Manicurists and pedicurists usually work in a nail salon, spa, or hair salon. The job involves a lot of sitting. Those who own a mobile grooming company travel to their clients' location. About 3 in 10 manicurists and pedicurists were self-employed, many running their own nail salon business.
How to Become a Manicurist or Pedicurist
Manicurists and pedicurists must complete a state-approved cosmetology or nail technician program and then pass a state exam for licensure, which all states except Connecticut require. 
Pay
The median hourly wage for manicurists and pedicurists was $10.01 in May 2015.
Job Outlook
Employment of manicurists and pedicurists is projected to grow 10 percent from 2014 to 2024, faster than the average for all occupations. New nail services being offered, such as minisessions and mobile manicures and pedicures, will drive employment growth. High turnover and a growing number of nail salons will result in very good job opportunities.
Cosmetology w/Nails:
Gainful Employment:

The United States Department of Education has required that any institution that provides programs that lead to "Gainful Employment in a Recognized Occupation" must provide certain information to prospective students, effective July 1, 2011. The rules require that a percentage be calculated for students who graduate within the "normal" time listed for the program...which amounts to full time or a minimum of 24 hours/week. This means that none of our night students are counted as successfully completing in "normal time," for instance...nor are students who need to ask for part time schedules or take leaves of absence in order to juggle family and job obligations.

Gainful Employment Information
Placement Rate Methodology
Placement is calculated by our Accrediting Agency (NACCAS) methodology as institutional reporting. The data is reported for students "scheduled to graduate" in a certain calendar year. Of those students who graduated, it is determined how many are eligible for placement. Of those, students may count as placed if documentation is obtained to prove they have become employed in a field for which their training prepared them, prior to the submission of the report. The exceptions are for those who are deceased, permanently disabled, deployed for military duty, studied under student visa and ineligible for employment in the US, or continuing their education at an institution under the same ownership.
Career Placement:
We have a strong relationship with our local salons and they want to meet our students even before you graduate. There is a dramatic shortage of Facial Specialists, Nail Technicians, Stylists, Massage Therapists and other salon professionals,offering a very unique industry opportunity with "Zero Unemployment". Whether it is a new first career option or a mid-life career change, there are many, many more Career openings than there are licensed graduates to fill these openings.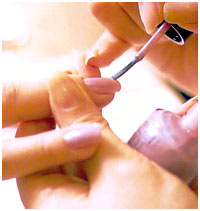 Schedules:
Standard day schedules are 8:30 am to 3:00 pm, Monday - Friday. Evening Classes meet 5:30 to 9:30 pm Monday - Friday. Completing the program and preparing for licensure will take, for instance, 15 months on a 24 hour per week schedule.
Housing:
Housing is not provided by the school. There are plenty of apartments and rooms to rent nearby, with easy access to public transportation. We will be happy to assist out-of town students in their selection of a suitable place to stay.
Admission:
The school admits as regular students:
High School graduates
Holders of GED's
And those age 16 or older who have previously enrolled in any post-secondary school and demonstrate the ability to benefit from the training.
Program Price - Go to: Cosmetology w/Nail Tech Program Price

Cosmetology w/Nail TechKit - Go to:  Program Kit List
Class Dates: Call or e-mail us for day or evening dates.

Do you want to be successful in the Beauty Business or Massage Field?
Get Started Now And Call Today!
Dr. Tina O'Daniels, Director of Admissions
(727) 347-4247 ext. 103
Toll Free: (888) 393-5015