A Florida beauty school, cosmetology school, barber school and hair school located in St Petersburg and 30 minutes from Clearwater or Tampa.

Instructor Training Program

600 Hours

Graduates of this Program use their skills to teach their profession to students in public and private schools, or as educators for salons or product lines.



12 months on a 12 hour per week schedule.

Schedules vary and those who can attend more will graduate sooner. 50 weeks on a minimum part time schedule of 12 hours per week.

Qualifies for Federal Financial Aid.
Includes:

The Principles of Teaching and Learning
The use of student knowledge to inform classroom teaching

Student characteristics
Classroom culture



The alignment of objectives, assessments and instructional activities

Effective lesson plan development
Classroom strategies and activities
Practice with targeted feedback
Testing, assessment and evaluation practices



The alignment of expectations with learning objectives and policies

Productive learning environments
Classroom Management
The Professional Career Instructor
Effective communication
Fundamentals of business management
School facilities, operations and policies
Note: No state license is required beyond the license to practice the original discipline in Florida, but successful teaching takes a separate set of skills than does employment as a cosmetologist, nail tech, esthetician, or massage therapist. Up to 300 hours can be evaluated for previous educational or experiential applicable background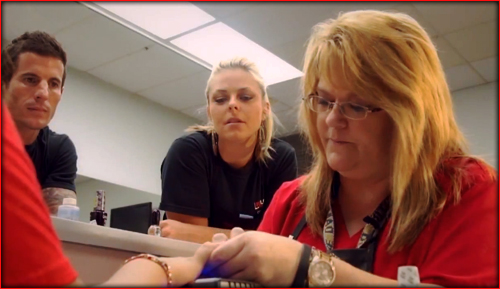 LORAINES ACADEMY offers full-service training beyond the basics, including a large and active clinic for supervised experience with the public. Frequent professional seminars and demonstrations by guest artists are held. Our library features a full selection of videos, books, and current trade publications on every subject. We feature a large retail center with related product knowledge classes.
Considering becoming an instructor? 
As the cosmetology and massage industry continues to grow, so does the demand for instructors to teach and train those who are pursuing careers. Cosmetology and massage instruction is a career best suited for people who not only have interest in beauty care or , but also in developing skills in others. Teaching is a fantastic way to impart your wisdom, knowledge and experience on aspiring young professionals. 
What are the responsibilities of a cosmetology or massage instructor?
Cosmetology and massage instructors are responsible for teaching students the basics of their field, and leading the class through the required coursework that prepares them for board exams and to work professionally in the field.
In order for beauty school and massage students to gain full understanding of the art and science of cosmetology, instructors must also be able to explain aspects of physiology and anatomy of the body as they relate to hair, skin, nails or massage.
Furthermore, it is the teacher's responsibility to ensure their students grasp the importance of safe practices for their clients, themselves and their work environments. This may be accomplished through a variety of teaching techniques and methods. You must supervise students as they learn new skills, and especially closely when they begin taking on real clients in the student salon.
A core responsibility of the cosmetology instructor is to prepare lesson plans and demonstrations for their classes that align with the state's curriculum requirements. The course of study should include objectives for the program and the students, as well as structured daily lesson plans.
Instructors are often required to prepare and submit program budgets each year, as well as request materials and supplies for the classroom within that budget. Many schools ask their educators to get involved in the community and make connections with salons, representatives from the beauty business, conferences and other relevant people to help students network and learn from real working professionals.
You must ensure the proper equipment, tools, textbooks and supplemental materials are available to students so you can properly prepare their students for exams and careers. It is the duty of  teachers to monitor and track the progress and performance of each of their students. You must be able to identify problem areas for students and provide the necessary support to help their students master their lessons throughout the course of the program. You must be comfortable offering constructive feedback to students to help them improve, and you must be firm in implementing the policies and procedures in place for the school.
Teachers are expected to prepare students for entry-level employment in the business. As an educator, you must help students develop the skills, knowledge and professional traits to be successful in the trade. Some schools offer job placement services to recent graduates, and educators may be expected to facilitate those connections or provide letters of recommendation for students.
If you think you have the aptitude to become a great educator, classes are enrolling now! 
How much experience do I need to become a cosmetology instructor?
Training requirements to become a cosmetology school educator differ from state to state, but typically candidates pursuing a career in teaching cosmetology are expected to have a number of years of experience working professionally in the field. Some schools that offer courses in teaching may lessen the number of hours required in course study and training if their work experience is extensive.
What is the working environment of a hair, skin, nail or massage instructor?
You can expect to work in typical air-conditioned classrooms and hands-on student salon settings. Just like any other college teacher, you will lead a classroom for in-class lecture and discussion to teach the material in the curriculum, but then you will perform demonstrations and offer students practice opportunities as you oversee the work and guide them on how to improve their skills.
What skills do I need to be a successful cosmetology teacher?
· Knowledge of multiple teaching methods, and education principles, practices and methodologies
· Understanding of competency-based curriculum, evaluation and grading
· Competency in administering tests and recording grades
· Good organizational skills for recording and reporting attendance and performance data
· Proficiency in developing a curriculum and creating daily lesson plans
· Credibility and authority as an expert in the beauty trade you're teaching
· Excellent written and verbal communication skills
· Ability to demonstrate hair, makeup, nails and/or skin care services and walk students through the procedures step-by-step
· Ability to lead class lectures and student discussions, coach and critique hands-on skills, and guide students through book learning and assignments
· Comfort and confidence delivering constructive and critical feedback to students
· Comfort interacting with many personality types, including angry, indifferent, challenging or emotional students or parents.
· Understanding of inventory management and budgeting for required materials
· Ability to recognize when students need more advanced training because they're picking up the material quickly, and alternatively, when students are struggling and need additional help and could benefit from a beauty tutor.
Beauty school and massage professors must also be open to feedback – both positive and constructive – from students and fellow instructors on how to improve their teaching abilities. Being teachable is one of the most powerful assets a teacher can have. If you don't have all of these skills yet, or have areas you feel you could improve – not to worry! The whole purpose of attending an instructor training program is to prepare you to be able to successfully lead a class.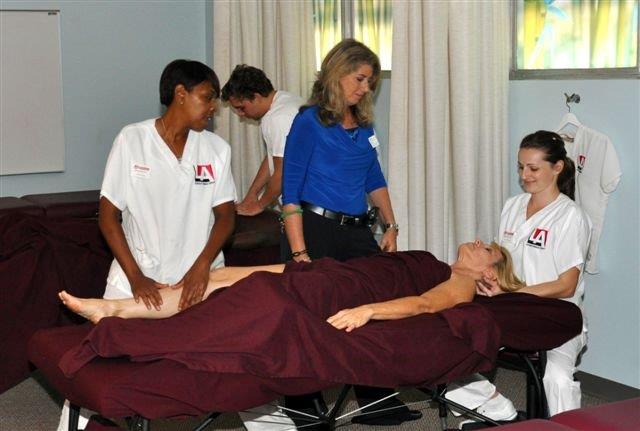 Instructor Training:
Gainful Employment:

The United States Department of Education has required that any institution that provides programs that lead to "Gainful Employment in a Recognized Occupation" must provide certain information to prospective students, effective July 1, 2011. The rules require that a percentage be calculated for students who graduate within the "normal" time listed for the program...which amounts to full time or a minimum of 24 hours/week. This means that none of our night students are counted as successfully completing in "normal time," for instance...nor are students who need to ask for part time schedules or take leaves of absence in order to juggle family and job obligations.

Gainful Employment Information
Placement Rate Methodology
Placement is calculated by our Accrediting Agency (NACCAS) methodology as institutional reporting. The data is reported for students "scheduled to graduate" in a certain calendar year. Of those students who graduated, it is determined how many are eligible for placement. Of those, students may count as placed if documentation is obtained to prove they have become employed in a field for which their training prepared them, prior to the submission of the report. The exceptions are for those who are deceased, permanently disabled, deployed for military duty, studied under student visa and ineligible for employment in the US, or continuing their education at an institution under the same ownership.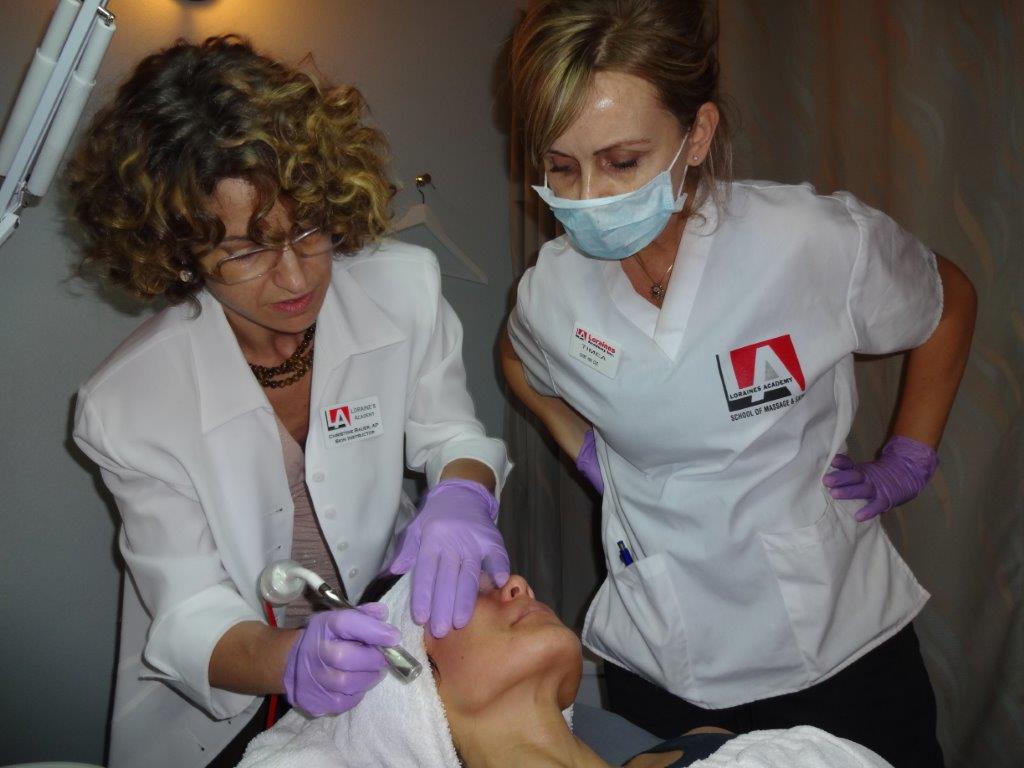 Career Placement:
Although there is no Instructor license in Florida for teaching hair, skin, nails or massage, when Loraine's Academy needs new instructors or substitute instructors we look first to the graduates of our Instructor Training Program. In addition, when any school is hiring, credibility is given to resumes that include an instructor training program, as teaching requires an entirely different skill-set than working on clients. Salons, beauty supply houses and manufacturers also believe instructor training programs are valuable background when hiring educators.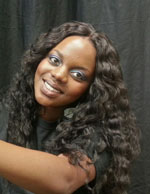 Schedules:
We find that most students taking Instructor Training are also working in salons or massage establishments, and can only find time for the minimum 12 hour per week schedule. There is a mandatory 10:30 am - 4:30 pm Monday class, and the remaining weekly hours are flexible. You can finish very quickly if you attend school more often, as we are open 60 hours a week and have many options for your scheduling plans.
Housing:
Housing is not provided by the school. There are plenty of apartments and rooms to rent nearby, with easy access to public transportation. We will be happy to assist out-of town students in their selection of a suitable place to stay.
Admission:
No State exam is required!
After you complete the Program you will receive a Loraine's Academy Instructor Training diploma and know that you have the training and credentials to educate students and professionals in your field.
The school admits as regular students:
High School graduates
Holders of GED's
And those age 16 or older who have previously enrolled in any post-secondary school and demonstrate the ability to benefit from the training.
- To start training, candidates must have a Florida Cosmetology, Specialist, or Massage Therapy License, show that they have held a license for 1 year or more, and have an interview with the administrative office.

-To start teaching hair, skin, nails or massage in Florida, you must have held a license in your field for two years.
Program Price - Go to: Instructor Training Program Price

Instructor Training Program Kit List - Go to:  Program Kit List
Class Dates: Call or e-mail us for day or evening dates.

Do you want to be successful in the Beauty Business or Massage Field?
Get Started Now And Call Today!
For personalized guidance and advice call:
Dr. Tina O'Daniels, Director of Admissions
(727) 347-4247 ext. 103
Toll Free: (888) 393-5015