School Tour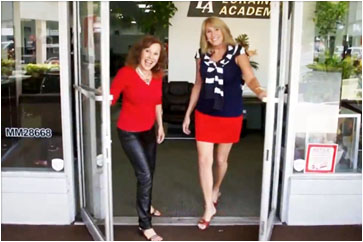 A Florida beauty school, cosmetology school, barber training, hair school, massage school, massage therapy school, nail school, nail technology school, skin care school, facial school, specialty school and spa school
LORAINES ACADEMY & SPA
SCHOOL TOUR
We have a student body of a little under 100 and a staff of 24.
(Additional Pictures are spread throughout the site.)


Loraines Academy & Spa is a private school specializing in vocational training in Cosmetology/Massage and related arts and sciences. It was founded in 1966 and has been in continuous operation since that time.
Our mission is to produce well-rounded, professional graduates, as well as technically competent Cosmetologists, Massage Therapists, and Specialists. We feel an obligation to our students, alumni, and community, and always look for better ways to meet these commitments.

Loraines is located in the Tyrone Garden Shopping Center, at the intersection of 9th Avenue North, 58th Street and Tyrone Boulevard, one of the most active centers in St. Petersburg, connected by major highways to Clearwater, Sarasota and Tampa and serviced by public transportation.

Over the years the facility has expanded to a total of 12250 square feet of classrooms, clinics and offices, including the 4000 sq ft Loraines Academy Spa skin and massage training center which opened in 2011. Updating is continuous.

The cosmetology clinic, or laboratory contains work stations and equipment for fifty Cosmetology students at one time, including an advanced student salon refered to as the "LA Senior Salon."

Other rooms feature:

- 12 nail stations
- 7 bed skincare clinic
- 4 bed curtained massage clinic
- 2 bed waxing room
- 4 pedicure stations
- lighted makeup center
- body wrap room with shower
- Private treatment room for Dermawave, Microdermabrasion and - photo rejuvenation
- Our classrooms allow over one hundred students to attend up to eight classes at any one time.
- We have a large and well-equipped library / study hall facility, a dispensary, two student lounges and locker rooms and six administrative offices.
- All styling chairs and facial beds are hydraulic.
Skincare training includes some of the latest salon-quality facial machines including both Crystal and Diamond Microdermabrasion machines, DermaWave, LED light therapy, Herbal Ozone Aromatherapy Facial Steamer, Galvanic, Microcurrent Magic Gloves, High Frequency, Massage Brush, Vacuum Extractor, Spray Diffuser, Ultrasonic Massage Probes, Ultrasonic Skin Scrubber, Hot & Cold Hammer, Wood's Lamp, and Magnifying Lamps
- 2 Massage classrooms are private and equipped with flat screen tv/monitors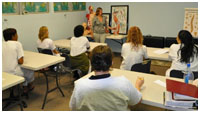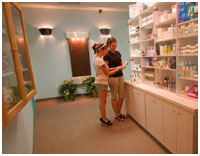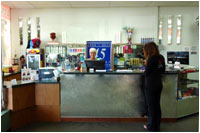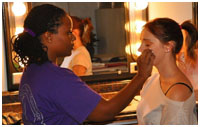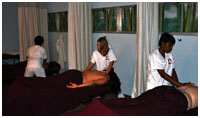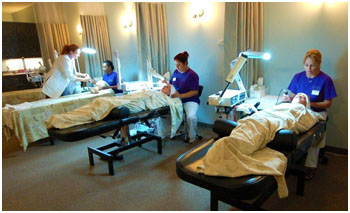 Owners, Management, Staff and Instructors are really the most important aspect of any school because they create the learning environment. At Loraines, you are not left to figure it out on your own. We use the latest equipment, teach an advanced subject matter, and find ways to make it easy and fun to learn. Then you practice on lots of real people. We have been doing this since 1966 and keep finding ways to make it better for you. Sure, we're proud of our facility. But the success of our students is primarily due to our dedicated staff and effective educational systems.
A staff of 24 Instructors and other staff members are always available to help you reach your own career goals.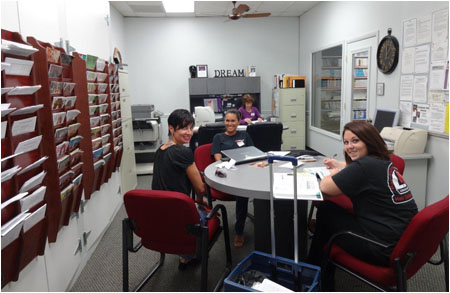 Visit for a Day! How would you like to spend a day as a student in one of our Hair, Skin, Nail, Massage or Instructor Programs... as our guest? ... just to see how you'd like it, and get an idea what it would be like to be a professional in one (or more) of these fields. Call Dr. Tina O'Daniels at 727-347-4247x103 to schedule a date and come explore a new career choice!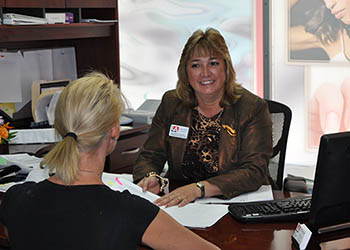 Do you want to be successful in the Beauty Business or Massage Field?
Get Started Now And Call Today!
St. Petersburg, Florida:
(727) 347-4247 ext. 103
Toll Free: (888) 393-5015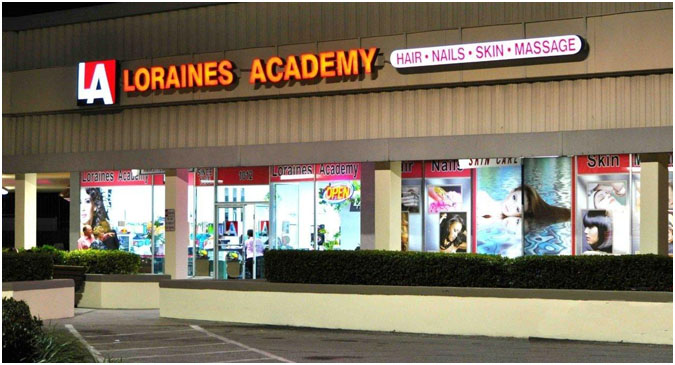 Many more pictures are spread throughout this site. Click on the images below for a larger version.
Class Dates: Call or e-mail us for day or evening dates.

Do you want to be successful in the Beauty Business or Massage Field?
Get Started Now And Call Today!
For personalized guidance and advice call:
Dr. Tina O'Daniels, Director of Admissions
(727) 347-4247 ext. 103
Toll Free: (888) 393-5015