Loraines Academy Reviews and Testimonials
Loraines Academy in St Petersburg, Florida is a Beauty School, Nail School, Spa, Skin Care, and Massage Therapy School. Conveniently located close to Clearwater, Bradenton, Largo, Tampa, and the Gulf Beaches. We offer education in the career areas previously mentioned. Both Financial Aid and Career Placement help are available. Loraines Academy has been recognized locally, nationally and internationally. Loraines Academy has been in business since 1966. It is State Licensed and Nationally Accredited by NACCAS.

by
Maria Hutchins
As Posted on Loraines Academy's
Facebook
timeline:
Omg!!! I am beyond excited & thankful right now!! To God Be the Glory!! THANK YOU JESUS!! Thanks to all that prayed for me this morning!!! Those who know me, know that I've been doing hair since age 11. I honestly didn't think it was my calling but God kept placing it in front of me as my safety blanket & so off to Loraines Academy & Spa I went. There I meet some amazing Instructors but the two that Inspired me and Motivated me the most were Joshua Does Hair and Jean E. Ross Torrealba !!! I love you guys to death and I swear all I heard while testing was your voices in my ear!!! Thanks for putting up with me. Words can't describe how I feel right now!! This is the definitely the beginning of a great future and successful career!!

by
Christine Elise
As Posted on Loraines Academy's
Facebook
timeline:
"Dear Loraine's Academy Students and Staff,
It is graduation time! Yay!!! It's been hard work but we did it!!
I wanted to give a great big shout-out to my wonderful instructors within the LA Skincare Program at Loraine's Academy. I am just thrilled that I was provided the chance to be instructed by this caliber of instructors at LA Spa. I feel very blessed and believe I am fully equip to go out into the world and make a good living and become a success as a licensed Esthetician.
Thank you Ms. Marie Gagne'!!
Marie is an amazing instructor. She has been determined to help me succeed. She is very knowledgeable, passionate towards the esthetic industry and it shows through her teaching making sure that every step was understood as we proceeded throughout the course. Marie made the learning experience enjoyable because of her light hearted spirit and laughter.
Thank you so very much to Mr. Jeff Losito.
Jeff is truly excellent instructor. He is very knowledgeable, thorough, challenging (which I loved), organized and dedicated to excellence. I am thrilled that I was provided the chance to be instructed by this caliber of experience and knowledge.
I would also like to thank Administrators; Ms. Nancy, Ms. Katherine for your kindness and encouragement during this journey.
Another shout out of many thank you' to the following people who made each day better with smiles on your faces and your assistance throughout this journey.
Ms. Geri (Admin Assist), Ms. Marly (Spa Coordinator), Ms. Terri (Clinic Coordinator), Mr. Tom (Finance), Ms. Melissa (Admissions), Ms. Doris (Student Services Director), Mr. Josh (Cosmo Instructor/evenings), Ms. Karla (Cosmo Instructor/Sub), Ms. Jean (Cosmo Instructor/evenings), Mr. Spencer (Dispensery/evenings), Ms. Diana (Advanced Skin Instructor),
Ms. Connie, Ms. Joy (Spa Instructor/Sub), Ms. Shannon (Nail Instructor), and Ms. Beth (Lead Cosmo Instructor), Mr. Dwight from International Institute of Reflexology (IIR), for your -------> You've made this experience EXCEPTIONAL.
If anyone out in Facebook land is interested in enrolling into Loraine's Academy, for any of their many Career training options, I highly recommend it. It's great learning.
Sincerely,
Christine O.
Esthetician, 2014

by
MieMie Lvea
As Posted on Loraines Academy's
Facebook
timeline:
"When I first started school I doubted myself I didn't think I was capable of succeeding and the sad part was that I let people talk down to me and allowed them to put me down. And trust me I have had that happen. Anyways as I kept moving forward my instructors never gave up on me. They kept pushing me and pushing me. Eventually they helped me build up confidence in myself and made me realize how much more I am capable of achieving. I wouldn't trade them for the world they are the best instructors you will ever have. Thank you so much for helping me get to where I an today. I highly recommend this school the owners and instructors are all so open hearted and willing to go above and beyond to help you succeed.

by
Sharon Billings Browne, Lmt
It TRULY is the BEST!!! Amazingly knowledgeable, patient and FUN instructors. And, the owners Kathryn and Nancy are just two of the nicest people you could know. BEST school! BEST training, anywhere!!!

by
Shari N Ken Pickup
Hi Nancy, Thank you for the pictures from graduation. & Thank you for Loraine's Academy. It has put me on the road to success. My clientele is growing every week. I LOVE doing esthetics. I can confidently do any procedure. You have great instructors. Thank you again. Have a nice day. Shari S2 Oct 2014

by
Cece Pitts
Loraines is the place to be! You learn so much and it's hand on. Since I've been going to Loraines I've never been happier to come to school and change people's lives like Loraines has changed mine. The staff there are wonderful people they were like family. But like I said Loraines is place they do skin massage hair and nails. How awesome Is that!!! So come to Loraines

by
Melissa Ferlan
After graduating as a full specialist I am now a full time employee here. Just couldn't stay away. The staff is VERY supportive of their students and I now have a new family. Love Loraines.

by
Lisa Walker
I have been a client at Loraines for 35 years. I always love the results of my services. They do it all hair nails facials massage and waxing to name a few. Thanks for all the years of beauty. I'll see you soon.

by
Gloria Ricaldy
Loraines is one of the best! The instructors and staff help in evey way possible throughout your entire studies. It's an amazing experience

by
Shekeya Gibson
Loraines is the best school for Hair ,Skin, Nails, and Massage by far, the staff and administration are caring and helpful in many ways and they understand that students themselves have lives of their own and help in any ways possible to make sure the students not only graduate but grasp the information that they are given I love Loraines and i would not recommend any other school in the world....If your looking for a training in Hair,Skin,Nails or Massage or even Instructor Training...Loraines Academy is where it's at.

by
Jennifer Taglione
One of the best haircuts I've ever had! And the instructor took the time to explain to me exactly why certain hairstyles work for me ( i will always need to have side bangs even when they aren't in fashion!) Can't believe it was only $7.5 for shampoo, cut and blow out of really curl y hair. great Career, Portia, at St Pete 9th Ave location!!!

by
Cyndi Whritenour Whitney
Best school ever :) c/o 93-94:) best staff and instructors ever:) I highly recommend learning your career here:)

by
Jeannette Pietras
In the past 11 years that I have been working various Careers, I have never once been able to say "I love my Career". Yesterday (3 months after graduation) I was finally able to say "I LOVE MY Career" and mean it! Thank you to all of the staff and instructors at Loraines Academy for making that possible (oh and to the awesome friends I made while I was there..You guys know who you are ;-) )

by
Joleen Szilagyi
Wow, how time flys!!!!! I can't believe I've had my license a little over 3yrs now??? I miss school and I also miss my instructors! You u guys were and are the best and I'm greatful for all u taught me and plezzzzzzz continue sharing and teaching ur knowledge. Thank U for making me who I am today! Xo :-D

by
Jameson Newton
My name is Jameson Newton, and I graduated from Loraines Academy in May of 2004. I have been struggling through the years to find the right fit for myself as a therapist. Finally after many interviews and a few Careers at a D.O.'s office and with a nurse practitioner for a few years each, I have found myself in what I believe to be my dream Career. Loraines paved the way for me to succeed in all that I do. My former employers valued my skills as a therapist, but promoted me to an office manager and administrative position. This was because the education provided by all the caring instructors, always was above and beyond just techniques and facts. They all saw the potential in me to become the therapist that I am today, and continually pushed me to be the best I can be. I owe any and all my success as the Director of Massage at Essentials Massage and Facials on 4th Street, and to all the instructors and administrative staff at Loraines.

by
Guest18899
I am a graduate of Loraines Academy, school of massage. I had 5 instructors, including (2) Chiropractors, and a Doctor of Oriental Medicine. There is never more than 8 in any class, and they helped me find a Career. BTW most of Loraines grads pass the National Exam the 1st try! Thank-you guys!

by
Ali
I attended Loraines while I completed high school, and am now a licensed Cosmetologist helping to pay for a degree at UF. Loraines stands for integrity, and has a 40+ year track record of quality education by a very dedicated faculty...thanks for everything you shared with me!

by
Derick
The world should be full of Loraines Academys - the world would then be full of beautiful people. It's Sensuous & stylish I really enjoyed my visit so I'm sure you would. The Interesting thing is that men are just as big fans of Loraines as women! Derick Holman

by
Spyderblonde
The first time I walked into Loraines I noticed the high energy and enthusiasm of everyone there. The front desk staff was excellent in making me feel welcome at Loraines and answered all my questions about available services. I have been totally satisfied with all services at Loraines. The most important thing I noticed was the feel of family among the students, instructors and staff. It was my lucky day when I happened upon Loraines.

by
Guest25701
best in town! the whole staff really do care about you!! they go out of there way to help you. they make learning fun and easy. THANKS LORAINES ACADAMEY!!!!

by
max
excellent staff, excellent education, state of the art equipment and latest techniques in all areas of facial and hair care.

by
Guest43329
Been there a dozen times...state of the art, plenty of trained staff, upscale interior and work area - has to be one of the best in the business...JB

by
Lauren
I've gone to the school every year to get updos for events such as prom, and I have received excellent service. Everyone is so nice, and treats you like royalty. My hair looked better than the salon I had gone to one year and it was less than half the price!

by
Guest12390
The best school around town! I went there while I was still in high school, they worked with my schedule and were always making sure I could handle with both work loads. The teachers were more caring than my high school teachers! Even going to the school as a paying customer before I enrolled was a very pleasant experience. I would recommend the school to anyone who wants a quality education, and a fun, educational environment. They also have a great Career board!!

by
ally
I would recommend this school to anyone!!! teachers work with you and you feel like you get the best education to be the best you can be.

by
Guest89355
First class learning facility. Very nice setup that is kept clean and organized. The staff is excellent and caring. I would go back and recommend to anyone.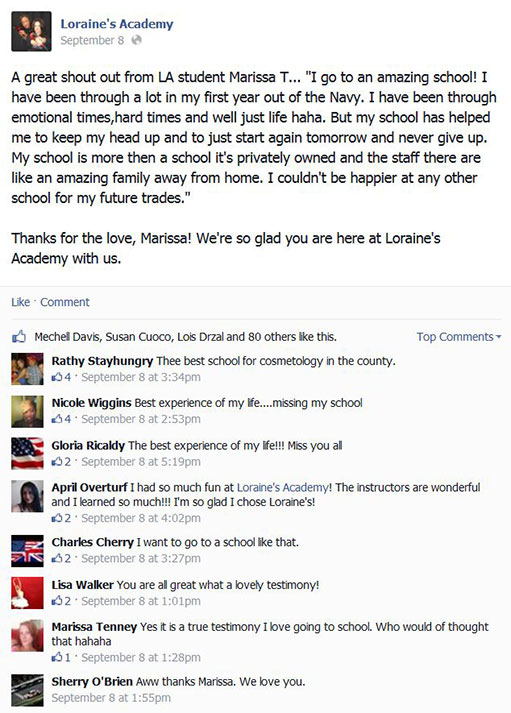 Hair, Skin, Nails, Massage are Great Career Choices--or take a COMBO!
Class Dates: Call or e-mail us for day or evening dates.

Do you want to be successful in the Beauty Business or Massage Field?
Get Started Now And Call Today!
For personalized guidance and advice call:
Dr. Tina O'Daniels, Director of Admissions
(727) 347-4247 ext. 103
Toll Free: (888) 393-5015