Loraines Academy Supports Our Veterans
Loraines Academy in St. Petersburg, Florida is a Beauty School, Nail School, Spa, Skin Care, and Massage Therapy School. Conveniently located close to Clearwater, Bradenton, Largo, Tampa, and the Gulf Beaches. We offer education in the career areas previously mentioned. Both Financial Aid and Career Placement help are available. Loraines Academy has been recognized locally, nationally and internationally. Loraines has been in business since 1966. It is State Licensed and Nationally Accredited by NACCAS.
Why Loraines?
The largest growing student segment at Loraines Academy is our veteran students. Loraines is becoming more and more popular with veterans, who find us from all over the world and are especially enjoying training for (and winning) state and national competitions through the Cosmetology program. We are Military Friendly...located close to MacDill Base, and love our Veteran students (and spouses) for their enthusiasm, professionality, discipline and focus. Some stay until they take several of our programs, as they not only are enjoying their experience at Loraines Academy but feel this will give them multiple opportunities in the workplace and for any further relocating they may do, as these career fields are usually easy to transfer to other states. We work with our Veteran students to our best ability in setting up tuition payment plans. In addition, our policy is that a Veteran student, if facing military transfer before the end of his or her program, is forced to withdraw from school, this would be considered to be a situation of "mitigating circumstances." A settlement will be made that will be reasonable and fair to both the student and the school.



Marissa Tenney
U.S. Navy Veteran
Cosmetology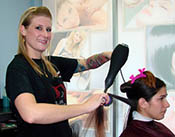 "I truly believe I'm getting the best value for my tuition dollar here...great training in a family-feeling, highly professional environment. Loraine's features "Learning by Doing" and I've found that highly supportive teachers are with you every step of the way."



Aesha Barnett
U.S. Air Force Veteran
Massage w/Facial Program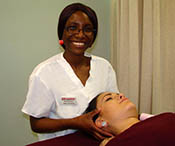 "The class size was the selling feature for me! I was directed toward Loraines by a couple of graduates. I was looking for massage schools and instantly fell in love with this school . Once I started, I found that the learning atmosphere is also really good; the teachers always have your back; there are no 'stupid' questions. You owe it to yourself to visit Loraines Academy before making a decision about your future. I found mine here."


Tangela Calmes
U.S. Navy Veteran
Massage Therapist Instructor Training and Clinical Skin Care Programs
"When I was in Afghanistan, I told another soldier that I was moving to Florida and planning to study skincare. Surprisingly, she knew the area and strongly recommended Loraines Academy. When I walked into the school, I somehow felt like I was "coming home." Here, I didn't even have to be in uniform to feel "special." I'm currently a Massage Therapist, completing the Instructor Training and Clinical Skin Care programs and considering adding Cosmetology and Nails before I move on to my new career."


Maxine Wilson
U.S. Army Veteran Spouse
Cosmetology/
Skincare/Nails Programs
"I researched Tampa Bay Area career schools from Hawaii when my husband was stationed there, and checked around locally once we got to the MacDill base in Tampa. Loraines Academy was not only conveniently located to the base, but I was impressed with the facility, the welcoming spirit and the educational opportunities. I ended up adding skin and nails to my cosmetology plans, and if I had time before the next transfer, I would continue on for massage and instructor training. Love it!"


Esther Johnson
U.S. Army Veteran
Cosmetology w/ Advanced Styling Bootcamp Program
"I recommend Loraines Academy for instructors who really care...It feels like you're part a family when you attend this school. If you're looking for a great education, the instructors are all working professionals in their fields, beyond teaching at the school. In addition, Loraines provides the latest techniques and good basics as well as offers flexible scheduling to meet our needs."


Tashanna Brooks
U.S. Army Veteran
Cosmetology Program
"Loraines Academy always feels like a home away from home...we're like a big family here. I think I will go really far with this career after graduating from this school. It has a solid reputation and the instructors are wonderful."


Krista Wallace
U.S. Army Veteran
Cosmetology w/ Nails Program
"I picked Cosmetology because I love the service industry...and this keeps me in the business of helping other people feel good and look good. Loraines Academy helped me visualize my potential to be an outstanding Cosmetologist and Nail Technician. I found the instructors to be phenomenal...patient, encouraging, and full of knowledge. Next, I plan to take the Advanced Styling Bootcamp here...I'm just growing so much I don't want to leave yet!"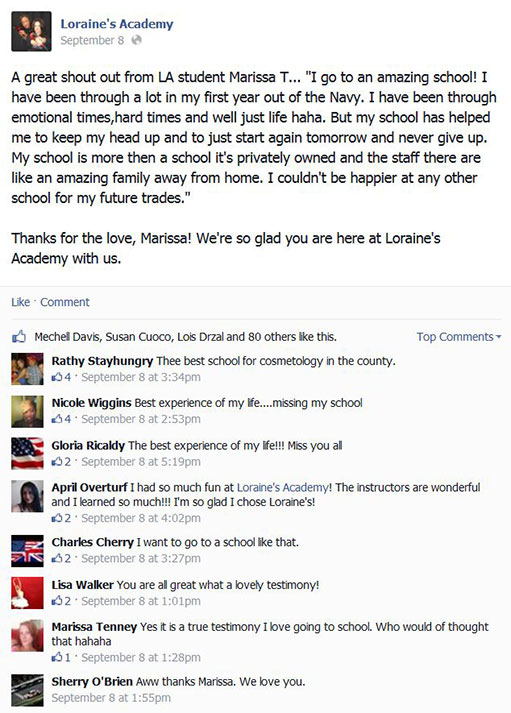 Hair, Skin, Massage are Great Career Choices--or take a COMBO!
Class Dates: Call or e-mail us for day or evening dates.

Do you want to be successful in the Beauty Business or Massage Field?
Get Started Now And Call Today!
For personalized guidance and advice call:
Dr. Tina O'Daniels, Director of Admissions
(727) 347-4247 ext. 103
Toll Free: (888) 393-5015